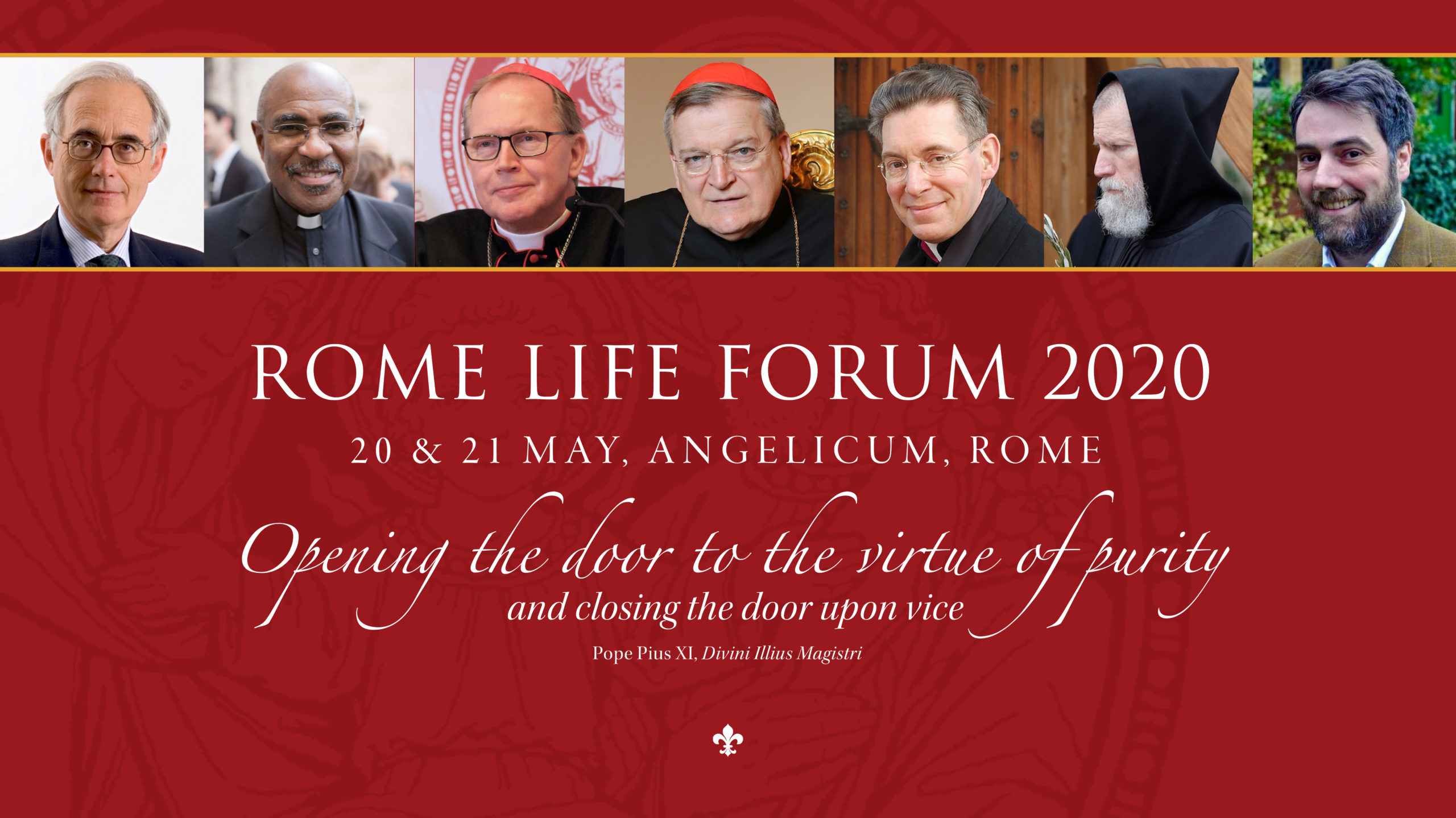 Rome Life Forum 2020
The seventh annual Rome Life Forum will be held on 20-21 May 2020 at the Angelicum. Click here!
The theme of this year's Forum is taken from Pope Pius XI's encyclical Divini Illius Magistri: "Opening the door to the virtue of purity and closing the door upon vice". Indeed, all attacks on human life, the family and our faith today are powerfully countered by authentic purity.
The Forum, followed by the Rome March for Life on 23 May, provides a unique opportunity for leaders in the pro-life and pro-family movement, as well as leaders of lay movements concerned with the defence and diffusion of Catholic moral and social teaching, united in their love for the Church, to gather in the heart of Christendom and support one another at this critical time. It is our love for the truth, enshrined in the immutable teachings of the Catholic Church, which forges a fellowship that helps to carry our work forward on a global scale.
The Forum will be in English and Italian with simultaneous translation into both languages. Co-sponsored by members of the Voice of the Family coalition: Associazione Famiglia Domani (Italy), Family Life International New Zealand, LifeSiteNews, Population Research Institute (USA) and the Society for the Protection of Unborn Children (UK).
We look forward to seeing you in Rome!
Hourly Schedule
20 May
8:00 Holy Mass

-
8:45 Registration/Coffee

-
9:45 Opening prayer and welcome

-
10:00-13:00 Morning session I

-

Speakers: H.E. Willem Cardinal Eijk, Prof. Roberto de Mattei, Fr Cassian Folsom OSB
13:00 Lunch

-
15:00 Rosary

-
15:30-18:00 Afternoon session I

-

Speakers: John Smeaton, Fr Linus Clovis
19:30 Dinner

-
21 May
8:00 Holy Mass

-
8:45 Coffee

-
9:30-13:00 Morning session II

-

Speakers: John-Henry Westen, Maria Madise, Dr Joseph Shaw
13:00 Lunch

-
15:00 Rosary

-
15:30-17:00 Afternoon session II

-

Speakers: Msgr. Michael Schmitz, H.E. Raymond Leo Cardinal Burke
19:30 Concert for Life with the choir of Msgr. Pablo Colino

-

Basilica of St. Ignatius